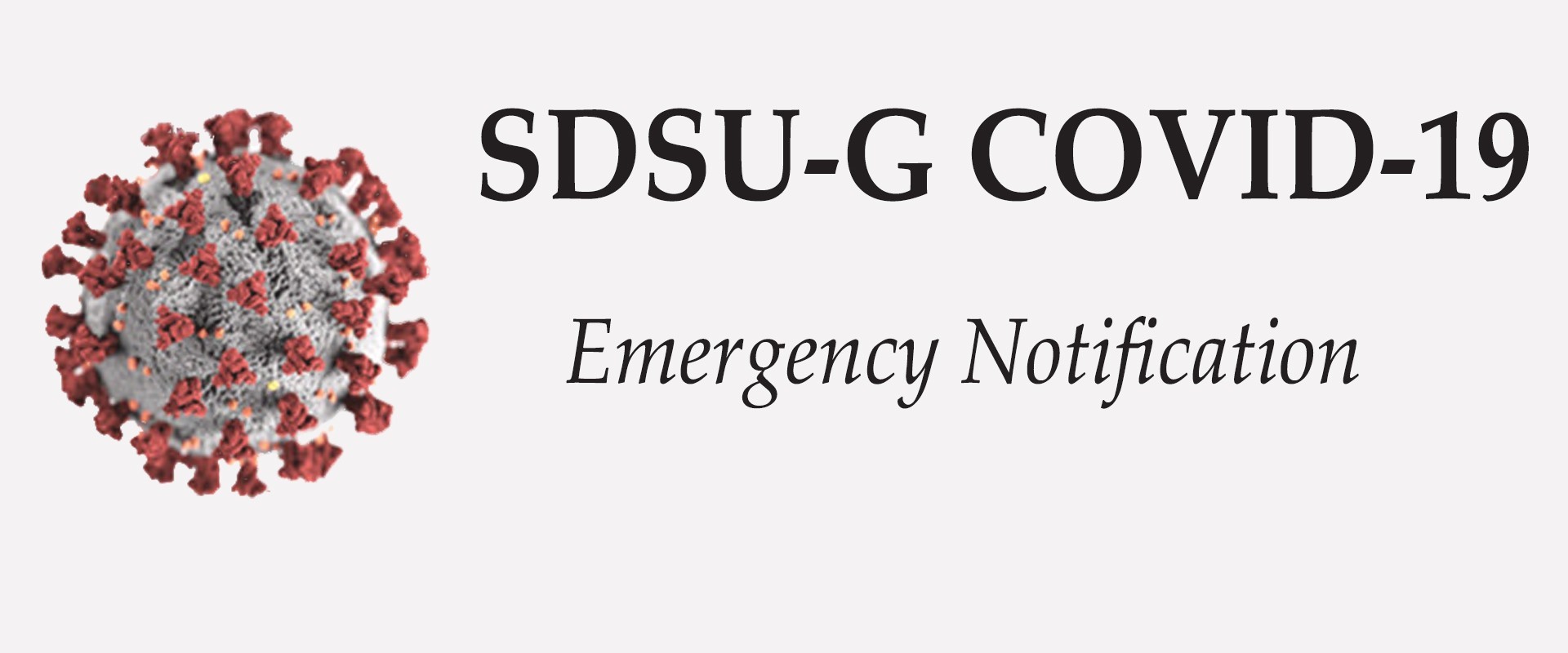 Notes on how to act if you have symptoms similar to COVID-19
Following symptoms are often associated with COVID-19 infection:
Fever of 100.0°F or higher
Chills
Cough not associated with known chronic conditions such as asthma or allergies
Shortness of breath or difficulty breathing
Muscle pain that is not the result of normal activities, exercise or injury
Sore throat
Recent loss of taste or smell
Congestion or runny nose not associated with allergies or other known chronic
conditions
Nausea or vomiting
Diarrhea
If you have any of the symptoms above or other unusual symptoms and you feel unwell:
Please stay home
Contact National Center for Disease Control and Public Health for guidance at 116 001 or your healthcare provide
Then act as advised by the National Center for Disease Control and Public Health or your healthcare provide
AND ACCORDINGLY inform your employer (Head of Administration of SDSU-G Mr. Lado Kiknadze at vkiknadze@sdsu.edu; for calls or texts: 593 307 323)
Information received by the Head of Administration, can be shared by him in case of need with the Dean of SDSU-G Halil Guven and other two persons as responsible parties for repopulation: Asfaw Beyene and Julie Kapanadze. The information obtained by the above individuals will be kept confidential.
Notifications:
In case a student, staff, or a faculty member is diagnosed with COVID19 (reports positive lab test) SDSU-G community will be notified, guidance will be provided by the respective national authorities.
In case a student, staff, or a faculty member has COVID 19 symptoms (but there is no test confirmation yet) SDSU-G community can be recommended to self-isolate until the test results are available. The institution is authorized to issue such a recommendation for health and safety purposes of its community, but the recommendation is not legally binding. Thus, the expectation is that our community members take others health/lives seriously, think of the greater good, and stay isolated to help stop the (potential) spread.
Please Note: SDSU is committed to ensuring that your submission remains private and only utilized as a means to provide support and resources. Your submission is not a substitute for medical advice; if you are in medical distress, please call 116001 (NCDC) or your healthcare provider.